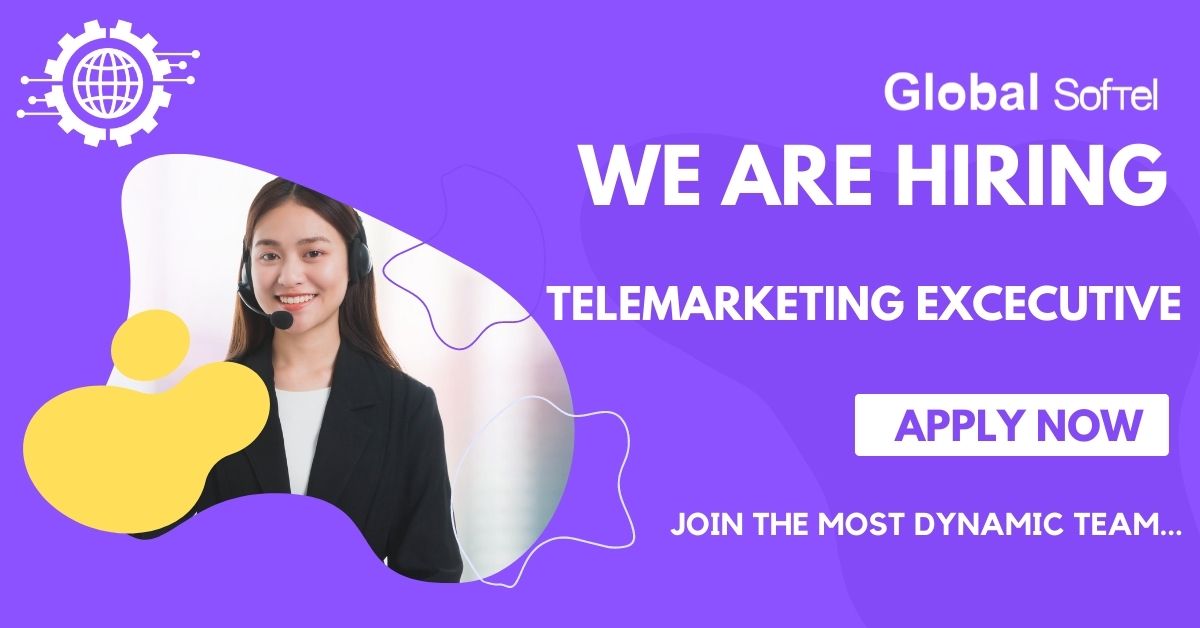 Join The Most Dynamic Team
Global Softel, Inc is a fast-growing IT & Outsourcing solution focused on software, technology, and business organizations. We are enthusiastic about passion, innovation, and agility. We are a capable team of people who think strategically, act collaboratively, and love working on our client's marketing and technology issues.
We're searching for a motivated and focused "Telemarketing Executive" for our International Project.
Shift: Night shift
Company Name: Global Softel, Inc
Office Location: Mirpur DOHS, Dhaka 1216
Time: 09 PM-5AM / 10PM - 6AM (EST time: 10am-6pm/ 11am - 7pm)
Working days: 6 days/week
Vacancy: 05 (Both Male & Female)
Employment Status: Full-time
Job Location: Office (Mirpur DOHS)
Salary range: 18,000Tk-25,000Tk Monthly (+ Performance Bonus) (Based on the experience & skills)
Requirement and responsibility:
Age must be 18+
At least 1-year Telemarketing Experience in the USA market
Candidates have to make outbound calls to the USA to sell our mortgage/loan services.
Prefer to have knowledge in working on MCA, Mortgage & Loan Products.
Must have at least basic knowledge in MS Office, Outlook, CRM, Dialers
Must have the ability to convert the cold lead into an interested customer
Males/Females both are encouraged to apply.
HSC, O Level, A-Level, Bachelor degree in any discipline
Educational background doesn't really matter for us if you can speak English like a native English speaker and can engage with the customer properly, then you are encouraged to apply.
Benefits & Facilities:
Transportation allowance of 3000 BDT per month after 3 months of employment
Festival Bonus (2) after 1 year of employment
Sales Bonus from the joining of the employment. (Generally, you can earn 5k -15k extra on top of your salary every month if you hit the sales target)
Skills Required:
Cold Calling, Telemarketing, Call Center, Call Centre Supervision/ Management, Fluent in speaking English, MS Word, MS Excel, CRM.
Note:
Salary negotiable based on English speaking skills and Experience.
Remember! You have to keep talking for 6-8 hours in English.
Fluency in English is a MUST.